Collaboration with Tech Giants Helps Agriculture Equipment Manufacturers Develop Sustainable Solution for Farmers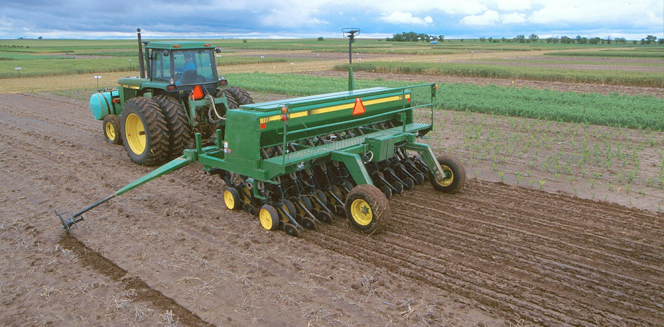 9 Aug
2016
Agriculture equipment sales sentiments worldwide strengthens due to recent technology interventions. Reactions of equipment manufacturers reckons business environment is showing a fast recovery. The positive range will result in a desirable turnover for most manufacturers over the next five to six years' say analysts at Allied Market Research. Besides, industry experts studying the share, size, and advancements of the agriculture equipment market predict that increasing need for sustainable grain and active participation of growers in the emerging carbon industry have persuaded companies to demonstrate how their operations are benefiting our environment.
Will technology assist equipment manufacturers transform the life of growers?
Technically speaking yes. Technology has finally come to farmers rescue in the form of multiple practices that they can apply to maximize the yield. That's not enough! Technology companies are now strengthening growers' role to reduce the harmful impacts to water and air. Agriculture equipment market players to break into this space include some of the big names like John Deere, Trimble Agriculture and many others. The wide range of sensing tools and data collection techniques developed by them can now help agriculturists both monitor and calculate the environmental benefits of different practices. Although the agriculture equipment market is a promising sector, the tools weren't communicating with each other so far.
So have we been able to unlock their true potential? Similarly, big data is here to stay and transform how farming practices were looked at so far. This became clear when Land O' Lakes joined hands with Google and Cloud Technology Partners to develop a WinField Data Silo to help farmers access a big data storage platform. Expressing his excitement about the new solution, Teddy Bekele, the vice president of the company told AgFunder News "We are excited to roll out this technology to our member-owners, but we are also very much concerned with data privacy." Bekele further added "We will ensure the information loaded in the platform is securely stored and only accessible with the right permissions."
How do they do it?
To be precise, technology developers are reaching out to the agricultural practitioners in an urge to make the new system extremely compatible. Sound's interesting doesn't it? Well there is more to it. Even the fragment industrial structure has not been able to stop companies to partner and streamline the complete data collection process. This approach is bound to influence the demand for sustainability. Crop Data Management System caught the attention of media industry when it announced its collaboration with SST software. Both companies are now focused on assuring farmers optimum crop protection and other important compliance within the SST system. Matt Waits, the CEO of SST expressed" "CDMS offers the comprehensive product and label database needed to provide reliable information to our users when and where they need it." Waits explained "SST's system integration offers the best solution for in-field and office precision ag management and recommendations." This has opened new avenue for the agriculture equipment market worldwide.
Ensuring environment performance definitely tops the list
Growers seeking credits for their leadership are expected to present data that convince food companies and carbon market about their sustainable framing practices. The data monitors the application of nitrogen, soil type, and even the boundaries of the agricultural land. Despite the invasion of advanced data collection techniques, the information is stored at various locations, formats, and software. Thus, it would be interesting to see how brands are working on streamlining and organizing the entire data collection process. This trend stands a chance of continued transformation. Combination of yield and as-applied data with moisture in the soil, climate, and other can result in an extensive fertilizer prescription. Such information helps in increasing the yield of the per square feet.
Biggest collaborations of the era
Good news for farmers came in when John Deere made its agreement with The Climate Corporation known to all. Both companies are investing their efforts to enhance connectivity amongst retailer and agronomic software. Similarly, to help growers manage as well as control the electronic information and stay innovative the Agriculture Data Coalition came into existence. This coalition was made possible through a diverse group of institutions such as the Raven Industries, American Farm Bureau Federation, The Ohio State University, and CNH Industrial. Ranjan Singh
Research Analyst at Allied Market Research
Ranjan has over 4 years of experience in market research and consulting across multiple domains which include technology, FMCG and durable consumer goods, heavy machinery, and automotive. He has hands on expertise in predictive and exploratory research projects for studying regional and global demand potential, market estimation & forecast, perceptions; analyzing macro and micro markets in terms of key gaps and opportunities. Ranjan is part of multiple consulting as well as syndicated report assignments and is actively involved in all the stages of project completion from planning, execution to delivery as per clients' satisfaction.
PREVIOUS POST
Automation has a new meaning with Industrial Robotics
NEXT POST
New Infrastructure and Aerospace Projects Propel Hydraulic Actuators Market Growth

Related Post