Governments Encourage Investments in the Waste to Energy Market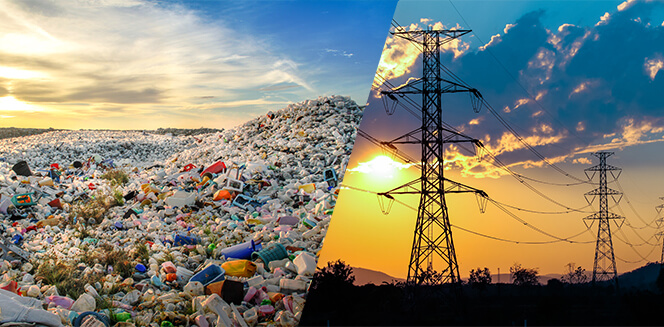 4 Apr
2017
Instead of filling landfills with loads of waste that releases tons of methane emissions, it could be used for the production of renewable natural gas and liquid fuels. The conversion would help in manufacturing fuel and reduce the requirement of landfills across the world. Eying the need to save the environment from millions of tons of greenhouse gases, market players and governments are investing in technologies for waste to energy (WTE) conversion. Moreover, the industry is driven by supportive government initiatives. They are encouraging investment in the clean energy sector through a competitive approach. While some of the governments are providing additional lands for WTE plants. In its recent report on the global waste to energy market, Allied Market Research states that the market is expected to reach $54,179 million by 2023, growing at a CAGR of 7.6% from 2017 to 2023.
Huge Investment in Southern Parts of India:
Market players are investing enormously eying the need to tackle challenges uprising from landfills of waste. The U.K. based market player has proposed a plan to invest INR 1,500 crore in several parts of South India city to set up waste to energy plants in next half decade. The waste to energy project bid in Kochi was clinched by GJ Nature Care & Energy (GJNCE), a firm promoted by Giby George. He is conferring with government officials of other states such as Kerala, Karnataka, Tamil Nadu, and Andhra Pradesh. Advanced technologies would be used to design, build, operate, and transfer model for conversion of municipal waste into energy and other value-added products.
Commenting on winning the bid, Giby George said, "We would invest INR 300 crore in Kochi plant to generate 10 MW of power. We expect to collect 300 tons of waste from the city every day."
The plant is expected to be set up based on public-private participation (PPP) model in association with the Kerala government. The state electricity board would buy the power generated. However, value-added products will be manufactured from by-products. The remaining investment will be made in other parts of southern India.
Governments use 'Competitive Approach' to encourage investments:
The government is taking initiatives to increase investments in clean technology using a competitive approach. In the latest competitive auction for renewable technologies, 11 new energy projects of worth up to £176 million were successful in winning contracts. According to the press release by the Department for Business, Energy and Industrial Strategy (DBEIS), six waste to energy projects won in the second Contracts for Difference (CfD) auction. Future Earth Energy, Think Greenenergy Northacre Renewable Energy, DC2 Engineering, and Redruth were among waste to energy developers who won bids. Five plants are situated in England and one in Wales. They have capacities varying from 0.05 MW to 25.5 MW.
Government authorities allot additional lands for WTE:
Realizing the need to protect the environment from large methane emissions, governments across the world are allocating additional lands for WTE plants. The Ghazipur Waste-to-Energy plant will undergo expansion as EDMC sanctioned additional land of 10 acres to IL&FS Company. The plant currently runs on 5.5 acres of land. The sanction increased the capacity of the plant by three-fold of its current capacity.
"We have allotted it land from the Ghazipur landfill site's 70 acres itself. No extra land anywhere has been given," said EDMC mayor Neema Bhagat. "No additional finance has been promised to IL&FS for infrastructure building. They shall recover the money from the 12 MW of electricity they generate hourly."
The seven-stage pre-processing technique is used for conversion of waste to Refuse Derived Fuel of high calorific value. The plant is generating 5-6 MW of energy every day. The captive consumption is two MW and remaining goes to the power grid. However, the plant doesn't compost any waste. Other plants operation in Delhi area is Okhla and Narela-Bawana. The government's plans to provide additional lands would help in the conversion of the enormous amount of waste generated.
Controversial WTE plants recommended for approval:
Governments are weighing up probabilities considerably though residents are opposing plans which would potentially affect them. Derby Industrial Estate is one of the examples of controversies. But Planning Director David Gartside has approved the plans of WTE plant. The proposal received more than 450 written objections and it was dubbed by residents as "incinerator". The council director considered all the arguments and gave the application a go ahead.
Mr. Gartside stated, "In weighing up the balance of the merits of the scheme, the proposed development is considered acceptable in terms of its heritage impacts, the impacts on visual amenity and highway safety."
He also outlined that there would be no major adverse effects on the environment and public health. The proposal will be voted by the authority's planning control committee.
Jessica Hamelburg
PR & Marketing Professional at EquipNet, Inc.
Jessica Hamelburg is a content marketing coordinator and social media manager for a global industrial asset management company, EquipNet, Inc. Jessica holds a Bachelor's Degree in Communications and Public Relations from Suffolk University and offers many years of experience in various forms of writing. Some of her favorite hobbies include exploring new music, creative writing and spending time with her dogs.

Related Post