Choose Organic Baby Food for Health & Safety of Baby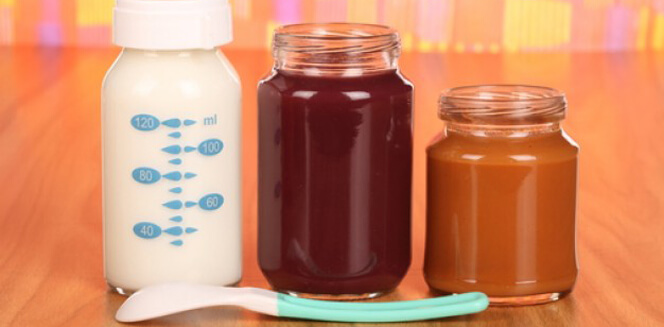 1 Oct
2015
Baby food is soft, easily consumable food made for babies. Changing lifestyle has increased demand for packaged baby food over traditional homemade soft cooked food. This food is given to children aged between six months to two years. Increasing awareness for nutrition of babies, growing urbanization, rise in organized retail marketing along with increase in population of working women are factors responsible for increasing demand. The World Health Organization recommends starting food intake in small amounts. The intake gradually increases as the child gets older. As per WHO guidelines, 2 to 3 meals per day is recommended for infants 6 to 8 months of age, 3 to 4 meals per day with 1 or 2 additional snacks for infants aged between 9 to 23 months.
Happy Family Introduces Transparent Pouches:
Happy Family is the first baby food brand which is offering transparent pouches. Its new product, Clearly Crafted, has transparent plastic packaging, recipes listed on packaging along with ingredients list, and logos of verification from USDA-Certified Organic and Non-GMO Project. Happy Family has been developing transparent packages from few years, as transparency is in demand from customers when it comes to food. The company believes that the recipes on the pouch provide clarity on the ingredients, which is a requirement of US regulatory bodies. The new product line, Clearly Crafted, includes 12 varieties of organic fruit and vegetable purees. It is available for babies of age 4 months and older through various online platforms.
"Parents are looking for openness and honesty from the companies they buy products from, especially for their baby," Happy Family CEO and Founder Shazi Visram said. "We developed Clearly Crafted with this in mind. But more than just the obvious word 'transparency' in the packaging is that Clearly Crafted is about transparency in general. That's the exciting part about it: to provide total and exact clarity to the parent on what they're getting. Our line has set the bar in the industry for everyone, ideally, to follow."
Myths Debunked About Baby Food:
The Myth: Making baby food is time consuming.

The Reality: Preparing baby food takes little time.

The Myth: Making baby food is expensive.

The Reality: The cost for preparing baby food is less.

The Myth: You have to be a good cook to make baby food.

The Reality: You are preparing food for baby, not for food critic. You don't have to be a good cook.

The Myth: Homemade baby food isn't very safe.

The Reality: Homemade baby food is safe as long as you use good hygiene.
Reasons to Choose Organic Baby Food:
Organic food has ample amount of nutrients.
It does not hamper digestive, reproductive, and nervous system of babies, which are developing rapidly.
Furthermore, organic food has less exposure to pesticides, so it is healthy for babies.
Organic farming is favorable from the point of view of environment.
Analysts studying the baby food market have presented significant market data about changing market dynamics in research reports. Recently, Allied Market Research has published a report titled, "World Baby Food Market - Opportunities and Forecasts 2014 - 2020." The report provides a comprehensive analysis of competitive scenario, market forecast, drivers & opportunities, detailed segmentation, and value chain analysis. Furthermore, the study provides SWOT analysis of prominent manufacturers and estimations through 2014-2020 are made in the study. Ranjan Singh
Research Analyst at Allied Market Research
Ranjan has over 4 years of experience in market research and consulting across multiple domains which include technology, FMCG and durable consumer goods, heavy machinery, and automotive. He has hands on expertise in predictive and exploratory research projects for studying regional and global demand potential, market estimation & forecast, perceptions; analyzing macro and micro markets in terms of key gaps and opportunities. Ranjan is part of multiple consulting as well as syndicated report assignments and is actively involved in all the stages of project completion from planning, execution to delivery as per clients' satisfaction.
PREVIOUS POST
Food Traceability Technology Market Shows Positive Signs for Investors
NEXT POST
Food & Pharmaceutical Brands Reinforce Anti-Counterfeit Packaging Techniques to Trace Quality
Avenue: Entire Library membership of Allied Market Research Reports at your disposal
Avenue is an innovative subscription-based online report database.
Avail an online access to the entire library of syndicated reports on more than 2,000 niche industries and company profiles on more than 12,000 firms across 11 domains.
A cost-effective model tailored for entrepreneurs, investors, and students & researchers at universities.
Request customizations, suggest new reports, and avail analyst support as per your requirements.
Get an access to the library of reports at any time from any device and anywhere.
Related Post