Commitment to Innovation Is the Key to Rapid Growth in Industrial Gloves Industry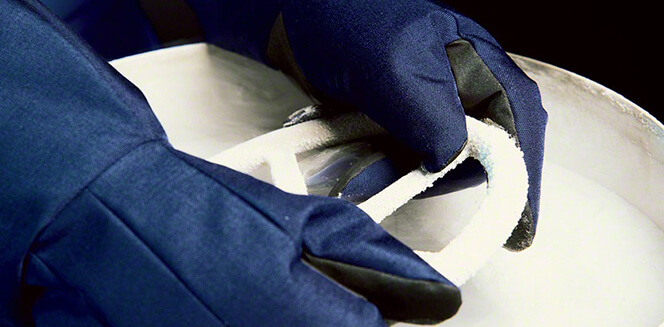 15 Mar
2016
Industrial gloves are used for personal safety and maintain hygienic conditions at work places. Along with safety, it also helps workers to improve work efficiency by reducing fatigue. Types of industrial gloves are disposable and reusable. Particular type of gloves is selected based on requirements of work environment. Industries, such as aerospace, food, pharmaceutical, automotive, medical devices, semiconductors, and others are end users of industrial gloves. It provides safety against puncture, cut, and abrasion hazards occurring in harvesting in agriculture. The protection against contamination and chemical hazards in pharmaceutical industry is possible using industrial gloves. Moreover, industrial gloves aid in prevention of cross-contamination and resistance from cut in aerospace industry.

The types of materials used in industrial gloves are natural rubber, vinyl, nitrile, neoprene, polyethylene, and others. Hartalega Holdings, a leading rubber gloves manufacturers from Malaysia, is able to achieve rapid growth owing to commitment to innovate and improve manufacturing processes. The company sells medical gloves made from synthetic rubber. Kuan Kam Hon, executive chairman of Hartalega said, "Our passion for innovation has always been the driving force behind our growth and success." Though synthetic rubber is expensive than natural rubber, it causes less allergic reactions. His determination to stick to synthetic rubber while competitors were producing gloves from natural rubber, is one of the major factors for rapid growth of the company. In addition, growing incidence of AIDS and other infectious diseases resulted in rise in demand for synthetic rubber gloves.

The first equipment of Hartalega manufactured from synthetic gloves was the most advanced of the time, but Kuan was not satisfied. He continued to innovate and aspired to become a leading market player globally. Nearly 76 percent of Hartalega's products are used in medical industries and half of the sales are generated from United States. The company registered record sales in the financial year that ended in March 2015. The competition is stiff as its competitor, Top Glove, is increasing the production of synthetic rubber gloves. Companies need to innovate constantly to thrive in the global market. The emergence of gloves with better grip and convenience would be responsible for rapid growth in the market.

Analysts studying the industrial gloves market have discussed information about changing market trends in research reports. Recently, Allied Market Research has published a report titled, "World Industrial Gloves Market - Opportunities and Forecasts, 2014 - 2020." As per the report, the world industrial gloves market is estimated to register a CAGR of 12.8% from 2015 to 2020 and expected to reach $9,774.5 million by 2020. The report provides an extensive analysis of drivers & opportunities, detailed segmentation, and competitive landscape. Furthermore, the study highlights SWOT analysis of leading manufacturers, recent developments, and value chain analysis. Eswar Prasad
Research Analyst at Allied Market Research
Eswar has more than six years of experience in market research and consulting in chemical and energy domains. He is actively involved in analyzing markets for specialty chemicals, commodity chemicals, bulk chemicals, materials, oil & gas equipment, petrochemicals, power industry, renewable & non-renewable energy and others. He is a part of multiple consult projects, syndicate and customized studies, with active involvement in providing critical business research insights to clients with his industry expertize. He is experienced in planning, commissioning, multi-tasking, and executing projects to attain specific client needs. His strength lies in trend analysis, data forecast, procurement analysis, building analytical models, business consulting and so on.
PREVIOUS POST
Bio Succinic Acid: Unleasing Growth for Future
NEXT POST
Growing applications of PLA in various end-use industries to boost the market growth
Related Post