Nothing Can Demean Love For Pasta: The Demand For Pasta Sauce Skyrockets Amid Pandemic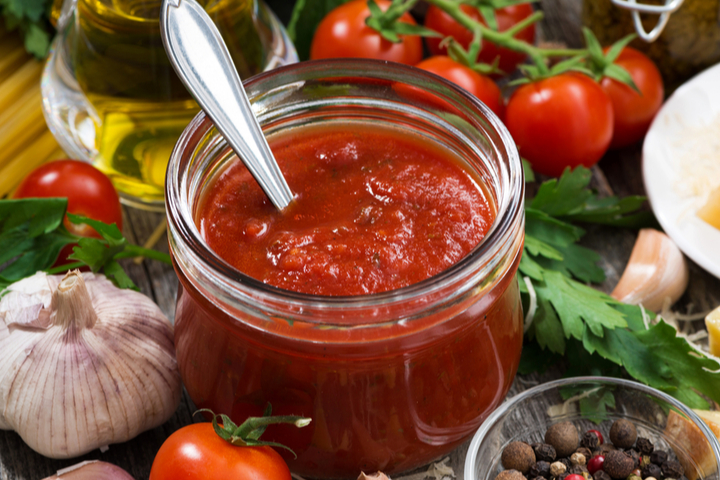 30 Jun
2020
If you love Italian food, you can't stop yourself from bagging pasta sauce every time you go out for groceries. Pasta has carved a special place in people's heart and that's why it is not shocking that some supermarkets dedicate an entire aisle for pasta sauce. Depending on its flavors, type, there are uncountable brands of pasta sauce.
Thanks to the recent boom in the fast-food industry and the huge influence of Western culture on rising economies, the demand for pasta sauce has increased over the last couple of years. According to Allied Market Research, the global pasta sauce market is expected to reach $4.6 billion by 2026, growing at a CAGR of 5.8% from 2019 to 2026. In addition, due to the Covid-19 pandemic, there is a surge in demand for pasta sauce as people want to cook different cuisines at home.
Behind every mouth-watering bowl of pasta, there is a pasta sauce and that's why major food companies have been investing a huge pile of money to offer the perfect pasta sauce for their foody customers. Every pasta shape demands a different kind of pasta sauce. Usually, larger shapes are best suited with thick sauces and thinner shapers pair better with creamy sauces. It takes more than serving pasta with wine; you must buy different types of sauces if your love for pasta is eternal. More importantly, you must opt for high-quality pasta sauces such as offered by FarmToFork.
FarmToFork is a new brand focused solely on offering a delicious variety of pasta sauces with high-quality, and clean-label. The company has stated that it sources sustainably-grown tomatoes that ensure its quality and goodness in every jar. Moreover, the family farms the company has partnered help it ensure the use of premium ingredients as well as help to connect with local communities. The company has already started hitting shelves and now sell pasta sauces to the mass retailers across the nation.
Impact on pandemic on pasta sauce industry
Although we are mad over pasta and pasta sauces, the Italian tomato industry is currently suffering tremendous stress. Since the declaration of a pandemic by the World Health Organization (WHO), people have been panic-buying, which has supplemented the sales of various food products including tomato products. In fact, a month after the Covid-19 emergency in Italy, the value sales of tomato products had increased by around 5% and it is constantly increasing.
The sales of canned tomato sauce have tripled since the pandemic. The lockdown led more people to make stew, pasta, or even pizza at home, which require ingredients such as eggs, pasta, and pizza dough. This has created a short supply in the country. Apart from Italy, the demand for tomato products has skyrocketed across the world. For instance, SPC Ardmona, an Australian vegetable canner has been running out of tomatoes due to panic-buying.
For foodies across the world, an Italian dinner is incomplete without pasta and a glass of wine. Although there might be a short supply of our beloved pasta sauce, the lockdown in various countries has lifted, which has given hope for having an Italian dinner again. Till then, learn new recipes and look for pasta sauce during your next grocery shopping. Eswar Prasad
Research Analyst at Allied Market Research
Eswar has more than six years of experience in market research and consulting in chemical and energy domains. He is actively involved in analyzing markets for specialty chemicals, commodity chemicals, bulk chemicals, materials, oil & gas equipment, petrochemicals, power industry, renewable & non-renewable energy and others. He is a part of multiple consult projects, syndicate and customized studies, with active involvement in providing critical business research insights to clients with his industry expertize. He is experienced in planning, commissioning, multi-tasking, and executing projects to attain specific client needs. His strength lies in trend analysis, data forecast, procurement analysis, building analytical models, business consulting and so on.
PREVIOUS POST
Food Traceability Technology Market Shows Positive Signs for Investors
NEXT POST
Explore the Current Trends of Craft Beer- How Is It Being Popular among the Beer Lovers
Avenue: Entire Library membership of Allied Market Research Reports at your disposal
Avenue is an innovative subscription-based online report database.
Avail an online access to the entire library of syndicated reports on more than 2,000 niche industries and company profiles on more than 12,000 firms across 11 domains.
A cost-effective model tailored for entrepreneurs, investors, and students & researchers at universities.
Request customizations, suggest new reports, and avail analyst support as per your requirements.
Get an access to the library of reports at any time from any device and anywhere.
Related Post