Refrigerated Display Cases Aid in Product Preservation and Longer Shelf Life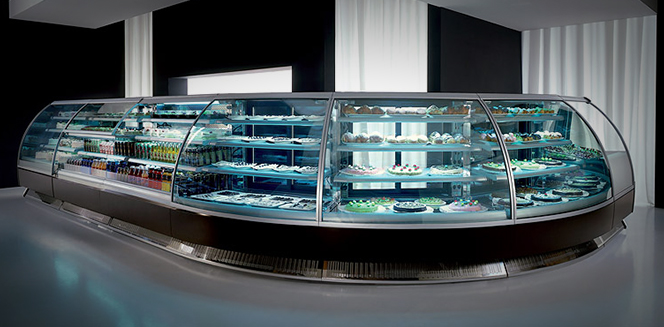 14 Nov
2016
The commercial food & refreshment industry is heavily dependent on cooling cases that can maintain the freshness of the products as well as regulate the temperature of the display for longer shelf life. Refrigeration display cases (RDC) are gaining extreme popularity with grocery chains, supermarket stores, food retailers, eateries, and hotels. An increasing number of concerns for food safety, coupled with greater demands for environmental-friendly cooling is driving the market for refrigerated food display cabinets towards greater innovation and product diversification.
The food & beverage retail business and corporate sector have requirements for ready-to-eat or packaged foods set in an attractive visual display for these products. This demand is giving a real boost to the market, as growing lifestyle changes are calling in for more supermarkets and retail outlets for food & beverages. The RDC Market is segmented into different designs, such as horizontal, vertical, hybrid, and semi-vertical display refrigeration cases. According to expert analysts at Allied Market Research, the vertical refrigerator display cases accounted for a maximum share of the revenue in 2015. As it enables better convenience of shopping for end-consumers of the displayed products, the market is lucrative for RDCs in the period 2015–2022.
Eco-friendly refrigeration the need of the industry

The Hydro fluorocarbons (HFCs) and Chlorofluorocarbons (CFCs) emitted from usage of air conditioners and refrigerators are held responsible for a significant volume of global warming. These contribute to the greenhouse gases and lead to ozone layer depletion, thus raising serious environmental concerns. With an increasing number of end-users as well as manufacturers becoming more conscious of their carbon footprints, refrigerators, over the years have become more eco-friendly. By reducing the emission of refrigerants that deteriorate the ozone layer, and becoming more energy-efficient, manufacturers are adhering to regulatory protocols as well.
RDCs that are eco-friendly and thrive on less power consumption are highly preferred by many supermarket chains and retail brands. Even big brands engaged in producing RDCs are making environmental-friendly display cases with bigger space for larger number of products, and optimum cooling properties with on power-saving modes.
For instance, one such company is Cooltech Application S.A.S. One of the leading magnetic refrigeration companies, announced An Agreement with Carrefour SA, a top supermarket chain. The collaboration aims to install a fully equipped magnetic cooling display cabinet at the chain's head office restaurant. The cooling system utilizes a water coolant instead of a refrigerant gas. This comes as an eco-friendly refrigerant solution by the brand, and apparently cuts energy consumption up to 50%. Such initiatives by the players lead to a dynamic marketing landscape.
"Our intention is now to test several magnetic refrigerated display cabinets in stores. In addition to the environmental performance with no gas emission, magnetic cooling will bring significant energy savings to our stores." said Jean Michel Fleury, project director—international support at Carrefour. Christian Muller, president of Cooltech, added, "We are convinced retail stores and supermarket chains will benefit from magnetic cooling to deploy greener and energy efficient new refrigeration solutions."
Flowers and drugs use RDCs for more shelf life

The scope of refrigerated displays is not just narrowed down to storing and refrigerating of food & beverage products. A significant number of dealers engaged in the floral business or drug dealers of pharmaceutical products are availing the different types of refrigerated cases available in the market.
The usage of RDCs for floral arrangements are vital for keeping their products in prime condition. As the floral industry thrives on visual appeal, it is essential to keep the flowers fresh for superior quality design and delivery. Flowers are fragile to handle, and require an environment with high humidity levels and gentle air movement. Floral refrigeration displays marketed by manufacturers are selling unique and customized displays with flower-specific temperature and humidity levels, in order to cater to their varied needs. This has augmented the scope of refrigerated display cases market, as it enters the floral business segment.
Even pharmacists and drug dealers require RDCs in maintaining the shelf life of medicines and drugs. It is important to protect the medicines from excessive exposure to heat, oxygen, or moisture, to prevent their contamination. Certain liquid medicines, botox & insulin injections, eye & ear drops, and reconstituted antibiotics need to be kept in kept in cold storage for maintaining their effectiveness and quality. The market also has many companies who provide cooling display cases for pharmacies and drug specialty stores. This is another segment of users in the market that is growing steadily.
Vertical display RDC segment fastest growing market

The rising number of retail businesses, grocery chains, and restaurants are opting for special vertical refrigeration displays in their outlets. This is majorly because it enables easy display of available products and regulates temperature optimally. The open vertical display is becoming popular in supermarkets, especially for arranging fresh fruits, vegetables, and dairy products. The closed display is mostly used for storing cold beverages, frozen foods, or packaged food products. Even restaurants prefer to use these verticals displays or semi-vertical displays, as they are energy-efficient and occupy less space, as compared to horizontal display cases. This is perhaps why the particular product segment is the fastest growing and is still expected to flourish in the next few years.
The world RDC market has a dynamic competitive landscape. Each major competitor is coming up with novel refrigeration techniques and designs to cater to customized needs of different businesses. Companies, such as Dover Corporation, Verco Limited, Metalfrio Solutions S.A., Lennox International, Illinois Tool Works Inc., and ISA Italy contribute to the market trends and developmental opportunities. With regulatory bodies supporting eco-friendly refrigerators, and greater consumer preference for energy-efficient models, the RDC market is set to have a robust market in the immediate future. Deepa Tatkare
Research Analyst at Allied Market Research
Deepa Tatkare has an experience of more than 3.5 years in market assessments and forecasts in healthcare & medical device industry. She is actively involved in providing critical insights on business research to clients with her subject matter expertize. Her profile includes planning, commissioning, and executing syndicate as well as customized research projects. She has successfully analyzed and presented data for studies related to medical devices, biotechnology, and pharmaceutical domains.

Related Post