Active Participation of Product Developers & Policy Market Keep mHealth Market Growing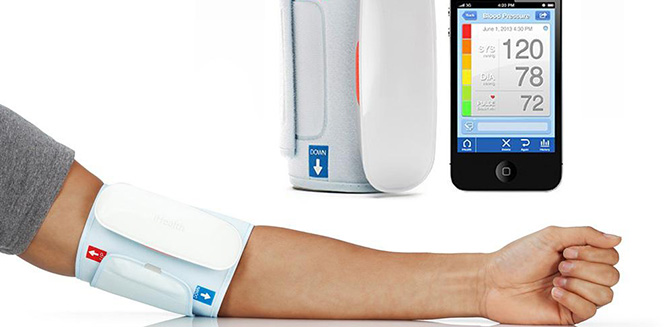 7 Sep
2016
mHealth initiatives today have brought innovative health systems and thought leaders closer believe research analysts at Allied Market Research. These industry experts who have been long involved in the study of the market size, share, and technology advancements definitely have a strong reason to believe so. The prime reason being the sudden shift in how patients want to interact with their data. Besides, another significant evidence is the explosion of wearable technology and mHealth market over the past five to six years. So it's not only Apple trying its luck on the health record space, there are others too spending on the personal health record segment to make data collection and sharing safe and effective. So the blog hits on all the key trends mHealth market players plan on targeting in years to come.
mHealth Market in India Shows Exponential Growth


So what are mHealth market players banking on?
Brands operating in the mobile health space are working hard on persuading their end users store the medical data on their smart phones. By doing so they are aiming at encouraging the patients document the existing conditions but also help them watch how the handheld device gathers the information. Interesting, isn't it? So now a patient can document his or her workout regimes, eating habits, sleep, and other activities. What's more? Your mobile phone can apply DNA sequencing and your family history and link them all in one particular place.
Get access to detailed information visit on: https://www.alliedmarketresearch.com/mobile-health-market
So with such a huge volume of information collected a smart phone or a wearable device can send notifications to the users when something goes wrong. Thus patients will no longer miss out on their prescriptions and get their health checkups done regularly. Many working in the mHealth market have also come to realize the value of advanced algorithms produced by these real -time monitoring and historical data and are using them to achieve better health results.
Definition Simplified
New privacy policies enter the mHealth market space
Several agencies are seen encouraging new privacy policies specially to close the mobile health black hole. These regulations are to keep pace with the new technologies. This became evident when ONC1 decided to submit its report to the Congress. Their report contains all the important suggestions that would help in the revision of the existing regulations and catch up with the mHealth technologies used across the globe and ensure effective sharing of health data2.
This extensive report is titled "Examining Oversight of the Privacy & Security of Health Data Collected by Entities". ONC has prepared the data in collaboration with a serious effort by the US Federal Trade Commission and Office for Civil Rights. What is more interesting is that the report the report contains different regulatory contracts that safeguards the privacy of the personal health data held by all the covered entities. Besides, the report highlights the concerns raised by the agencies over the use of health data by technology developers and various business vertical that do not fall within the scope of HIPAA4. Many industry experts see this as a much awaited move in the mHealth market.
Patient engagement tops the list of the mHealth deal makers
Mobile health may be viewed as relatively maturing trend in the healthcare arena. But, the fact that it is continuously innovating cannot be ignored. With digital interactions and techniques used for accumulating health record gaining popularity we can definitely expect the mHealth collaborations. If we are to, round-up some of the new deals, Fitbit emerges as a top performer for reasons more than one. Yes, the brand has always exceeded our expectations when it comes to accessing patient-generated health information. Amy McDonough, the GM and president of the Fitbit Group Health, explained in a press release "Supporting the research community is critical to our efforts as we continue to grow as a digital health company." McDonough continued
"Fitbit has always been focused on empowering people to lead healthier, more active lives through data and insights. Fitabase has helped make our mission a reality with researchers by allowing them to better engage study participants, collect more objective data, and ultimately, develop new interventions that may positively influence patient care." WELL, patient-provider communication system now enables patents exchange text messages with a front-end staff at the office.
A lot of emphasis has been laid on offering logistical assistance for the patients, enabling them to disseminate data about the scheduled appointments, paperwork etc. Surprisingly applications too come with language translation solutions. Thus, many hospitals or medical facilities provide an on-site translation solution especially for patients who speak Spanish, French, Arabic, etc. Resources for languages such as Greek and Russian.
However, these are not the only reasons why mHealth market players are confident about their future gains. If we are to believe on the recent developments, the FDA has been finally asked to speed up its mobile health reviews. This is something FDA has not performed since the mid-90s. The body has been long discussed for scrapping advisory approach to back the thorough guidance development procedure. Since that period, the body has clashed with several mobile health advocates over the relaxed development of the m-health regulations. There has been a lot happening to offer clarity on the role of mHealth is making the lives of patient with chronic conditions better. Moreover, a sudden increase in the nurse workloads are also believed to be driving the industry worldwide.
With these developments and more, researchers evaluating the mHealth industry outline that the sector will see many new players enter the arena. Besides, active participation of the medical practitioners, end users, regulatory bodies and others will bring in some major developments in the next five to six years. Industry experts also hope that regions such as North America, Europe and Asia Pacific will see greater developments. Deepa Tatkare
Research Analyst at Allied Market Research
Deepa Tatkare has an experience of more than 3.5 years in market assessments and forecasts in healthcare & medical device industry. She is actively involved in providing critical insights on business research to clients with her subject matter expertize. Her profile includes planning, commissioning, and executing syndicate as well as customized research projects. She has successfully analyzed and presented data for studies related to medical devices, biotechnology, and pharmaceutical domains.
PREVIOUS POST
Developments in Biomarkers Market Answer Diagnosis Concerns
NEXT POST
Flow Cytometry ready to shift gears in Cell Application
Avenue: Entire Library membership of Allied Market Research Reports at your disposal
Avenue is an innovative subscription-based online report database.
Avail an online access to the entire library of syndicated reports on more than 2,000 niche industries and company profiles on more than 12,000 firms across 11 domains.
A cost-effective model tailored for entrepreneurs, investors, and students & researchers at universities.
Request customizations, suggest new reports, and avail analyst support as per your requirements.
Get an access to the library of reports at any time from any device and anywhere.
Related Post