Cell-Based and Recombinant Vaccines Govern the Future of Vaccine Market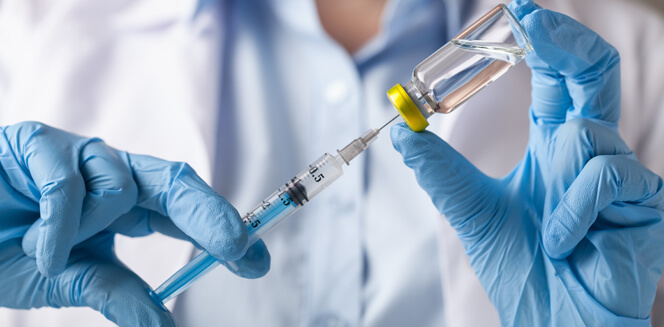 21 Mar
2017
The increased demand for vaccination is due to the increase in both viral and bacterial infectious diseases and an active involvement of governments of various countries to promote vaccination. Furthermore, the recent developments in the healthcare sector and the increased awareness regarding the importance of vaccination have boosted the global vaccines market. In a recent report published by Allied Market Research, it is estimated that the market is valued at $31,216 million in 2016, and is projected to reach $65,148 million in 2023 at a CAGR of 10.9% during the period from 2017 to 2023.
Vaccine Pills: A Step Further in Oral Immunization
The vaccines market has a biggest obstacle of storage cost during transportation as the medicines must be stored in a fridge or freezer at all time. However, the process can be bypassed with the newly developed vaccination pills, which do not require a fridge or freezer for their storage. The U.K. scientists have taken a step towards an oral vaccination, and they hoped that these vaccination pills can help develop needle-free inoculations against various diseases.
The study was led by Prof. Andrew Sewell, from Cardiff University's school of medicine and stated that the pills are as effective as the traditional vaccination when treated on mice. According to Andrew Sewell, "The invention of vaccination pills is a boon for the people who suffers from needle phobia. Furthermore, these medicines are easy to store and transport, making them convenient for the rural places where current vaccination delivery systems are problematic." The research was published in the Journal of Clinical Investigation, and it states that the vaccination was developed against influenza-A that mimics the real virus. However, the researchers agreed that it requires more study for human trials, and an advanced system to develop synthetic vaccination on a larger scale.
Misconceptions About the Vaccination During Pregnancy
Some parents are afraid to vaccinate their children as there are too many vaccines that are mandatory in the first six months of a child. Furthermore, some strongly believe that such vaccinations can overload infant's immune system. However, scientists have put such worries to rest. According to a study published in the Journal of the American Medical Association, kids who got vaccines were not likely to get unrelated infections, and certainly do not get overloaded by vaccination. Furthermore, such early age vaccinations help stimulate the immune system.
There is a false impression that pregnant woman should not vaccinate as it can weaken child's immune system. However, according to The Society of Obstetricians and Gynaecologists of Canada, infants are at a minimal risk of having influenza or whooping-cough when their mothers were vaccinated against such diseases. Both influenza or whooping-cough are highly contagious, and infants are highly susceptible to various diseases in their first few months. According to the Society, vaccinating women during pregnancy can transfer some immunity to fetus and protect them during the early life.
Cell-based Recombinant Vaccines: The Future in Vaccination
The recent H3N2 flu epidemic pointed out some of the flaws in vaccination system. According to several studies, the effectiveness level of vaccination was just around 25 percent due to the slow manufacturing process of vaccines. Numerous analysts cited that the vaccine manufactures should embrace modern methods of commercial mass production of seasonal vaccine. Cell-based and recombinant vaccines production techniques are easy to incorporate and allow real-time surveillance than the egg-based vaccines production techniques. As a result, scientists want to rethink the approach towards the vaccine production. The world's one of the largest independent biotech companies, Sanofi, relies on cell culture rather than eggs to develop vaccinations as egg-based vaccines takes a significant time to reproduce eggs. This was the main problem against this year's H3N2 strain. Researchers have also developed a recombinant vaccine with the help of DNA technology, which enables them to detect the genes that can stimulate the immune system and insert them into another organism's genome.
The market of global vaccines has rapidly developed in recent years owing to the technological advancements and more funding by major biomedical companies for a detailed research. However, even with such improvements, scientists fear that 90 percent effectiveness of vaccines against a viral or bacterial infection is still hard to meet.
Alex Hillsberg
Chief editor of review team at FinancesOnline
Chief editor of review team at FinancesOnline Alex Hillsberg is an expert in the area of B2B and SaaS related products. He has worked for several B2B startups in the past and gathered a lot of first hand knowledge about the industry during that time.
PREVIOUS POST
Developments in Biomarkers Market Answer Diagnosis Concerns
NEXT POST
Novel Trends in Gynecological Cancer Drugs Spur Market Growth

Related Post