AR In Healthcare To Open Limitless Opportunities For Both Healthcare Professionals And Patients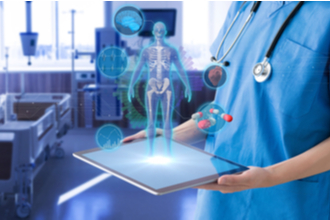 12 Nov
2020
The increasing global population coupled with longer and longer lifespan has pressurized healthcare services. Being able to meet the patients' expectations is one of the major challenges in the medical profession. Thankfully, advancements in technologies have shared some of loads of doctors, surgeons, and other healthcare professions. The emergence of Augmented Reality (AR) in healthcare is one of the examples.
Imagine surgeons performing a high-risk cancer tumor removal surgery, but they can fully see the target area. While giving insulation shots or injections, doctors no longer have to search for veins and know exactly where to place the needle. Such are the advantages of the advent of AR in healthcare.
In any kind of surgery, precision is instrumental and AR could be one of the most beneficial tools in brain surgery or cancer removal operation. With the helping hand of AR technology, doctors could know the exact spot of a tumor and recreate accurate 3D reconstructions. In addition, AR technology can guide doctors throughout the operation with accurate, real-time X-ray images, appropriate path for the operation along with the calculation of possible risks of surgery.
The demand for AR in healthcare has increased over the last few years. Apart from surgeries and critical operations, AR has been found beneficial in the day-to-day life of doctors. For instance, startups such as AccuVein has developed an AR-integrated scanner that helps doctors find location vein to give injections. According to Allied Market Research, the global AR in healthcare market is expected to reach $4.23 billion by 2026, growing at a CAGR of 27.4% from 2019 to 2026. The advantages of AR in healthcare and ease of use are the prime drivers for this growth.
AR in healthcare: What are the current opportunities?
Medical students and healthcare workers have quickly realized the benefits of AR in healthcare. As education is the most obvious use of AR in the healthcare sector. Medical students have to learn a lot about how the human body works. AR could help them visualize human anatomy and help them interact with a 3D representation of bodies. Apart from this, AR could help patients understand procedures of surgeries and how the medications would work during treatment.
Increasing digital engagement has become essential for everyone, including the healthcare sector. AR in healthcare offers an innovative approach to present new medical devices or drugs. AR offers doctors the opportunities to virtually explore the mechanism of new therapies which are often prohibitive to demonstrate in hospitals owing to weight, size, or security restraints.
The use of AR in healthcare has to expand beyond expectations. Now healthcare professionals could visualize pharmaceutical mechanisms of action and interact with cells using smartphones or tablets. Furthermore, researchers could switch on and off cell receptors to know what effect this has on cells. AR helps in manufacturing as wells. It enables subject matter experts to visually explore various parts of equipment to fixes without sending them into the facility. This saves both time, production delays, and resources.
AR is already being used by healthcare professionals in the U.S. and soon penetrate various regions across the globe. The opportunities are limitless in the AR in the healthcare industry, only one must have the vision to create novel AR medical equipment and applications.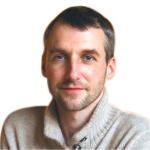 Alex Hillsberg
Chief editor of review team at FinancesOnline
Chief editor of review team at FinancesOnline Alex Hillsberg is an expert in the area of B2B and SaaS related products. He has worked for several B2B startups in the past and gathered a lot of first hand knowledge about the industry during that time.
PREVIOUS POST
Developments in Biomarkers Market Answer Diagnosis Concerns
NEXT POST
Novel products to be launched, a new era of surgical robotic systems rises
Avenue: Entire Library membership of Allied Market Research Reports at your disposal
Avenue is an innovative subscription-based online report database.
Avail an online access to the entire library of syndicated reports on more than 2,000 niche industries and company profiles on more than 12,000 firms across 11 domains.
A cost-effective model tailored for entrepreneurs, investors, and students & researchers at universities.
Request customizations, suggest new reports, and avail analyst support as per your requirements.
Get an access to the library of reports at any time from any device and anywhere.
Related Post